Armoured PROFIBUS 1 Pair 22 AWG
Application
These profibus cables are dedicated for fixed installation on board of ship, used as connection cables for digital signals up to 12MBd.
Standards
IEC 60332-1&2
IEC 60754-1/2
IEC 61034
IEC 60092
Construction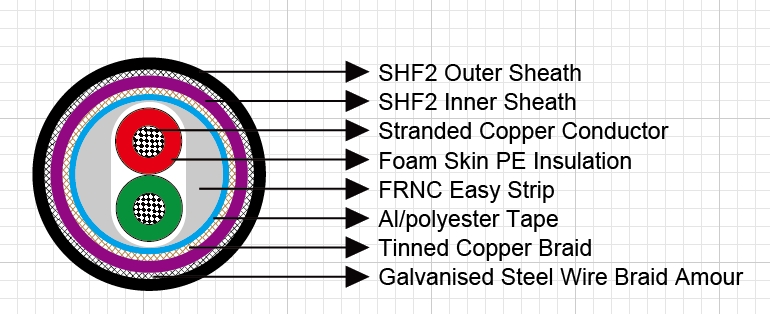 Conductors: Stranded bare copper 22 AWG.
Insulation: Foam skin PE.
Easy Strip: Thermoplastic copolymer (FRNC).
Overall Screen1: Aluminium/polyester tape.
Overall Screen2: Tinned copper braid.
Inner Sheath: SHF2.
Armour: Galvanised Steel Wire Braid.
Outer Sheath: SHF2.
Core Identification
Core 1: Red
Core 2: Green
Electrical Properties
| | | |
| --- | --- | --- |
| Mutual Capacitance @1KHz | nF/km | 28.5 |
| Insulation Resistance | MΩ.km | 16000 |
| Attenuation @9.6kHz | dB/km | 2.5 |
| Attenuation @38.4kHz | dB/km | 4 |
| Attenuation @4kHz | dB/km | 22 |
| Attenuation @16kHz | dB/km | 42 |
Mechanical and Thermal Properties
Bending Radius for Fixed Installations: 10×OD
Temperature Range: -30℃ ~ +75℃
Dimensions and Weight
| Part No. | Construction No. of elements×No. of cores in element×Cross section(mm²) | Core Diameter mm | Nominal Overall Diameter mm | Nominal Weight kg/km |
| --- | --- | --- | --- | --- |
| MLN- 02YSH(ST)CHSWBH-1×2×22A | 1×2×22 AWG | 2.55 | 10.65 | 180 |